"Schuette stages something of a restoration, challenging recent historical developments by creating works of art that address multiple senses simultaneously and thoughtfully, no matter the context."
Citybeat Cincinnati
Tickets are on sale for the premiere of The Navigator – a new concert work from The Warp Whistle Project –  performed by the Network for New Music Ensemble!  Sunday, Jan. 21 – 3PM – Caplan Studio Theater – U Arts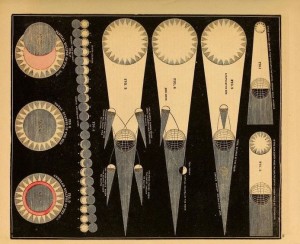 About the work
The Navigator is a hybrid work of art: a staged collision of sonic and visual information.  The visual components are inspired by Asa Smith's 19th century astronomical illustrations: outdated planetary charts that served a didactic purpose for his readers. Additional source materials include 1950s science fiction stage sets, clock parts, and mythological scientific instruments. Tensions between the hand-made and the mechanical, illusion and artifice, and function and futility, positions The Navigator as an amalgamation of past representations of ideological futures. Similar to make-believe, the viewer is consumed  by an experience on the verge of rupture.
As The Navigator performs its various functions, its true purpose remains enigmatic.  While every journey has a destination, The Navigator's priority is the voyage.  In "Wind Up", the music is energetic and intricate, influenced by strains of minimalism, yet the question of mechanical malfunction begins early on as kinks enter into the clockwork precision.  "Unlock" is an hypnotic journey through nocturnal spaces – pointillistic starbursts of sound map a course out of the darkness and into the light.  In the final leg, once a tenuous signal is established, The Navigator is ready to "Transmit" to its final destination.
Fall 2017
Nov. 16 – llama/lama performs on Brooklyn Bound at So Percussions studio
Oct. 24 – 'Out of the Box' at U Arts features composer/synthesist/pianist Ofir Klemperer and percussionist, Zach Larabee
Oct. 1 – llama/lama performs at the Unruly Sounds Festival – Princeton, NJ
Spring 2017
May 13 – llama/lama performs at the New Music Gathering after party!  Bowling Green State University – 10PM
April 7-9 – smudge, my tuba solo, has been selected as a finalist in this year's ElectroBrass Competition to be held at Tennessee Tech, Cookeville, TN – performance by Andy Larson
April 3 – 'Out of the Box' at U Arts features The Gate – Terra Hall, 16th Fl – 8PM
March 5 –Vaster Than Empires performs at Constellation – Chicago, IL – 8:30PM
Winter 2016
Dec. 12 – Vaster Than Empires performs on the Parlour Tapes+ release show at Spectrum, NYC – pre-order the album now!
New record out on Parlour Tapes+!

Fall 2016
Nov. 15 – 'Out of the Box' at UArts features composer Jerod Sommerfeldt with Ashely Tini and Eric Derr, percussion

Oct. 2 – llama/lama performs on the
Unruly Sounds Music Festival
, Princeton Public Library, Princeton, NJ
Sept. 30 – flowers – Closing Reception – 7:00-9:00 PM – U Arts Sculpture Gallery – featuring the debut performance of llama/lama
Sept. 13 – flowers – a solo exhibition from The Warp Whistle Project opens in the U Arts Sculpture Gallery.  Fine Arts Visiting Artist's Lecture in the CBS Auditorium at 1:00 PM.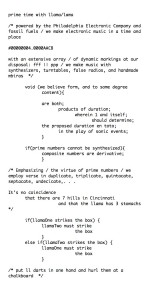 Spring 2016
May 16-22 – ISEA 2016 – Hong Kong – Mary and I (aka The Warp Whistle Project) have been invited to present an Artist's Talk on this years International Symposium of Electronic Art.  We will be presenting an installation, nightly light from suns, that we completed at VCCA this past summer.
May – I am happy to announce that I'll be in residence at Signal Culture this May.  I am really excited to check out the awesome gear that these guys have.
April 19 – The Booleans – U Arts Laptop Ensemble – performs 'The Sinking of the Titanic' by Gavin Bryars in the Caplan Recital Hall – Terra Hall – U Arts – 8 PM
March 15 – 'Out of the Box' in the Caplan Black Box at U Arts – 8 PM – Philadelphia, PA – Erica Dicker performs in quadraphonic sound with our 4-channel violin pick-up
Fall 2015
Dec. 2 – ebb:flow performs Media Counterpoint at Tapp's Art Center in Columbia, SC
Nov. 30 – 'Out of the Box' in the Caplan Black Box – Philadelphia, PA – Eric Derr performs sliced attractor
Nov. 13 – New Music DePaul – Chicago, IL – DePaul's new music group, Ensemble 20+, performing Look to Third – Eric Derr performing sliced attractor
Sept. 21 – Brianna Matzke performs Puzzle Pieces at Malone University – Stewart Room – 7:30PM
Sept. 18 – Brianna Matzke performs Puzzle Pieces at SUNY Fredonia – Mason Hall, Rosch Recital Hall – 8PM
Summer 2015
Aug. 26 – Leroy and The Unexpected Vibe at the Listing Loon, Cincinnati – 10PM
July 29 – Leroy and The Unexpected Vibe at the Listing Loon, Cincinnati – 10PM
New work from the Warp Whistle Project's summer intensive at VCCA – check out the video documentation here.
Spring 2015
March 26-28 – My solo percussion piece, sliced attractor, will be a part of this years SEAMUS Conference at Virginia Tech.
May 1 – Vaster than Empires heads to Potsdam, NY for a featured performance on the Lougheed-Kofoed Festival of the Arts and a series of clinics at the Crane School of Music
May 17 – Pianist Brianna Matzke will debut new works for piano by Molly Joyce, Danny Clay, Dylan Sheridan, Tyler Niemeyer and yours truly as a part of The Stockhausen Response Project
May 31-June 3 – Erica Dicker and I will be performing at this years NIME Conference at Louisiana State University
Winter 2015
I'm happy to announce that I was the inaugural guest on John Lane's podcast 'Standing in the Stream' – check it out – http://www.john-lane.com/standinginthestream/
Jan. 26 – newly formed improv group Leeroy – including fellow synthesist Ofir Klemperer and percussionist Zach Larabee – debut at the Comet (Cincinnati) – 10 PM
Fall 2014
Nov. 19 – 8 PM – PASIC – Indianapolis, IN
My set of
Oscillator Etudes
(written for a quartet of handmade instruments) will be part of the Focus Day evening concert at PASIC.
I'm off to Amsterdam in early October to do some work at STEIM!  They are going to help me make improvements to the 'four-channel violin pick-up' – see my Electronics page to learn more.
Summer 2014
The Warp Whistle Project will be featured in a show of emerging artists at the Phyllis Weston Gallery in Cincinnati – opening reception July 17
Vaster than Empires is hitting the road this summer –
June 6, New York City Electroacoustic Music Festival, Abrons Art Center, 3:30 – event
July 12, Experimental Sound Studio, Chicago, 7 PM –
July 13, Constellation, Chicago, 8:30 PM – event
Spring 2014
March 15 – Percussion Group Cincinnati will be premiering my work Space-time Julienne which I wrote for them last May while in residence at the Ucross Foundation.
March 28 – Erica and I are happy to announce that we will be performing on the SEAMUS Conference at Wesleyan University.  Stay tuned for more information about a potential NYC show the week before.
Winter 2013
Well the Vaster than Empires crew (Al Otte, Erica Dicker and myself) made it up to Chicago to be in residence at ESS, and I'm happy to report that we have much to show for our efforts.  I've been hard at work sifting through and editing the large amount of material from this initial session, and it's coming together nicely – take a listen –
Audio clip: Adobe Flash Player (version 9 or above) is required to play this audio clip. Download the latest version here. You also need to have JavaScript enabled in your browser.
In other news,
The Warp Whistle Project
is rolling along. I picked up a new group of paintings from Mary over Thanksgiving, and I am really excited to start adding some sound to them. Each piece has a different kind of material (paper, metal, plastic, canvas and burlap) embedded into it which I'm going to amplify via a piezo disk.
I had an exceptional group of students in my Audio Hardware Hacking class this semester at CCM. Check out some of their projects –
Fall 2013
I am very pleased to announce my upcoming residency at the Experimental Sound Studio in Chicago!  This fall I'll be traveling to ESS multiple times to record with violinist, Erica Dicker, and percussionist, Allen Otte.
Erica and I hope to use our time in the studio together to naturally progress our improvisations.  By letting prior sessions pave the way for new sounds, each of our sessions will build upon the last.  And we'll be doing so with a new homemade device in hand – a 4 channel violin pick-up.  See pictures under Electronics.
Here are a couple of test tracks that we've made here in Cincinnati:
Improvisation 1.0
Audio clip: Adobe Flash Player (version 9 or above) is required to play this audio clip. Download the latest version here. You also need to have JavaScript enabled in your browser.
Improvisation 1.1
Audio clip: Adobe Flash Player (version 9 or above) is required to play this audio clip. Download the latest version here. You also need to have JavaScript enabled in your browser.
Allen Otte will turn our duo into a trio with the addition of his "prepared yang-chin" (Chinese dulcimer).  A renowned prepared pianist, Al has created a very personal approach to this traditional Chinese instrument.  While in residence at the Ucross Foundation this past spring, I wrote a graphic score specifically for he and Erica to perform.  View the pdf.
Stay tuned for details about a concert and gallery opening at ESS this December!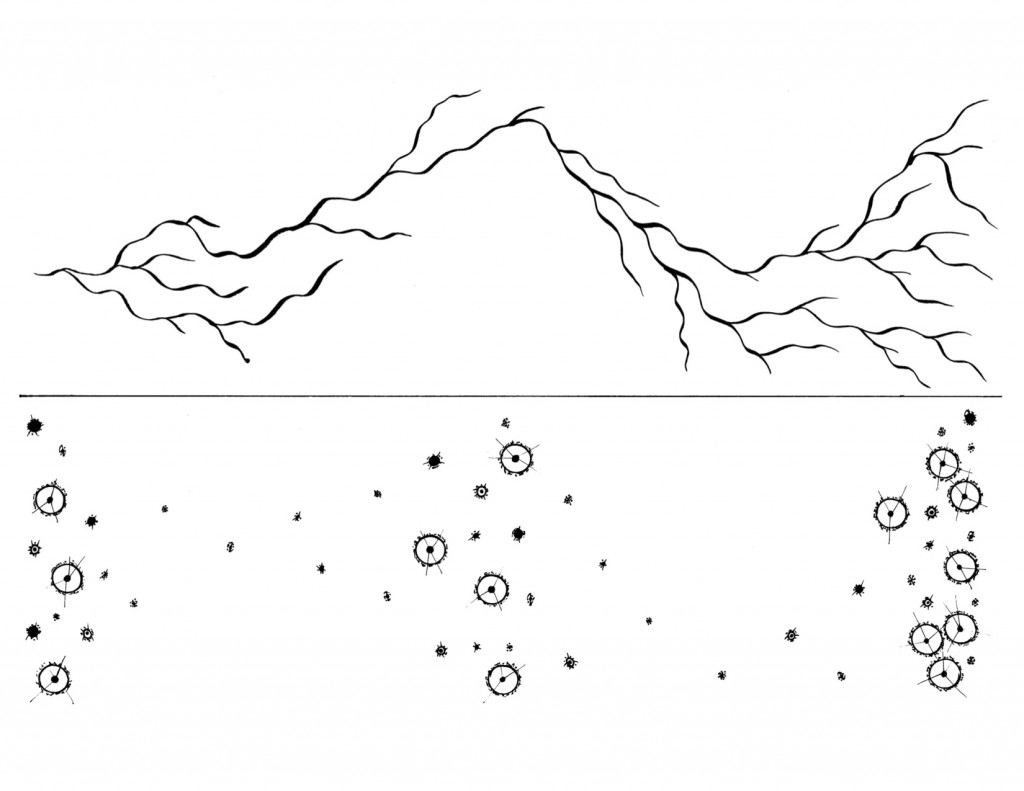 (This project will be supported by the 2013-14 Artist Residency Program at Experimental Sound Studio, Chicago, with funding from the National Endowment for the Arts.)
Summer 2013
New electronic music from my stay at Ucross
Space-time Julienne (Part I)
Audio clip: Adobe Flash Player (version 9 or above) is required to play this audio clip. Download the latest version here. You also need to have JavaScript enabled in your browser.
Spring 2013
I'll be traveling to South Korea at the end of May to present mobile #2 on the NIME festival.
Winter 2013
circuit painting no. 1 – new work from my stay at VCCA – see the video under Circuit Drawings

Fall 2012
Origami performs at the Contemporary Arts Center
Saturday, September 14, 2012
Listen to a recording of the performance:
Audio clip: Adobe Flash Player (version 9 or above) is required to play this audio clip. Download the latest version here. You also need to have JavaScript enabled in your browser.
Bio
Paul Schuette is a composer, sound artist, improviser, programmer, and educator living and working in Philadelphia, PA.  According to Citybeat Cincinnati, he creates "works of art that address multiple senses simultaneously and thoughtfully, no matter the context."  His work and pedagogy explore the potential for technology to enhance art and music in meaningful ways.  Interested in writing complex music with simple resources, he describes his current compositional aesthetic as 'simple complexity'.  Through the use of simple materials, he hopes to make complex forms accessible by presenting listeners with conceptions that they can see, remember, manipulate, and, ultimately, 'understand' by merely listening.  Paul's gallery work, including his collaboration with painter Mary Laube (aka The Warp Whistle Project) has been exhibited in Chicago, Cincinnati, Bloomington-Normal, Detroit, and Daejon, Korea.  Recent musical collaborators include Percussion Group Cincinnati, Brianna Matzke, Erica Dicker, Zach Larabee, and Eric Derr.  Paul has been a resident artist at VCCA, the Ucross Foundation, and the Experimental Sound Studio.  His music has been performed at numerous universities and at venues including the Contemporary Arts Center (Cincinnati), Lougheed-Kofoed Festival of the Arts, PASIC, Constellations (Chicago), NIME, SEAMUS, Cincinnati Fringe Festival, NYC Electroacoustic Music Festival, Soundcrawl:Nashville, Intermedia Arts Festival (Indianapolis), Taff's Art Center (Columbia, SC), and the Midwest Composer's Forum, among others.
Contact: paul.w.schuette@gmail.com