"Schuette stages something of a restoration, challenging recent historical developments by creating works of art that address multiple senses simultaneously and thoughtfully, no matter the context."
Citybeat Cincinnati, May 2012
New electronic music from my stay at Ucross
Space-time Julienne (Part I)
Audio clip: Adobe Flash Player (version 9 or above) is required to play this audio clip. Download the latest version here. You also need to have JavaScript enabled in your browser.
UPCOMING – I'll be traveling to South Korea at the end of May to present mobile #2 on the NIME festival.
circuit painting no. 1 – new work from my stay at VCCA – see the video under Circuit Drawings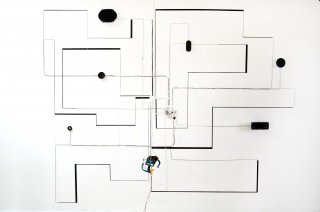 Paul Schuette (b. 1985) is a composer, sound artist and performer with a DMA from the College-Conservatory of Music in Cincinnati.  According to Citybeat Cincinnati, he creates "works of art that address multiple senses simultaneously and thoughtfully, no matter the context."  In the concert hall, his music, which is concerned with space and inspired by the visual arts, incorporates unique computer software, handmade electronics, and video.  His sound art works range from speaker mobiles after Alexander Calder to interactive circuit drawings.  As a performer, Schuette deploys his menagerie of handmade electronic instruments in improvised settings and is a founding member of CiCLOP (Cincinnati Composers Laptop Orchestra Project).
Paul has been a resident artist at the Virginia Center for Creative Arts and the Ucross Foundation in Wyoming.  His music has been performed at the NIME Conference in South Korea, Cincinnati Fringe Festival, New York City Electroacoustic Music Festival, Soundcrawl:Nashville, Intermedia Arts Festival (Indianapolis), and the Midwest Composer's Forum, among others.  His art works were recently featured in a solo show at the Semantics gallery in Cincinnati in May 2012.
Contact: paul.w.schuette@gmail.com
Origami performs at the Contemporary Arts Center
Saturday, September 14, 2012
Listen to a recording of the performance:
Audio clip: Adobe Flash Player (version 9 or above) is required to play this audio clip. Download the latest version here. You also need to have JavaScript enabled in your browser.