Water Walk (1959)
Cartridge Music (1960)
Radio Music (1956)
These performances are recordings from my show "Music for Newspapers and Radios" which played on the Cincinnati Fringe Festival in 2011.
Thursday, June 2, 2011 – 8:00 PM
Audio clip: Adobe Flash Player (version 9 or above) is required to play this audio clip. Download the latest version here. You also need to have JavaScript enabled in your browser.
Friday, June 3, 2011 – 9:15 PM
Audio clip: Adobe Flash Player (version 9 or above) is required to play this audio clip. Download the latest version here. You also need to have JavaScript enabled in your browser.
Wednesday, June 8, 2011 – 7:00 PM
Audio clip: Adobe Flash Player (version 9 or above) is required to play this audio clip. Download the latest version here. You also need to have JavaScript enabled in your browser.
Thursday, June 9, 2011 – 7:15 PM
Audio clip: Adobe Flash Player (version 9 or above) is required to play this audio clip. Download the latest version here. You also need to have JavaScript enabled in your browser.
the "City Pieces"
49 Waltzes for the Five Boroughs (1977) and A Dip in the Lake (1978)
In 1977 Rolling Stone magazine moved from San Francisco to New York. Appearing in their first issue after the move was a piece by John Cage entitled 49 Waltzes for the Five Bouroughs. The accompanying score consisted of a long list of addresses and the following instructions: "for performer(s) or listener(s) or record maker(s)" he then goes on to say in parentheses that "Transcriptions may be made for other cities, or places, by assembling through chance operations a list of addresses."
Cage later wrote a similar piece for Chicago entitled A Dip in the Lake. The two pieces are collectively known as his "city pieces".
In my transcriptions of these pieces I chose to take Cage's suggestion that the piece can be adapted "for other cities, or places " to an extreme by realizing a version of A Dip in the Lake for the entire world and a version of 49 Waltzes for the Fifty States. Such extreme interpretations of Cage's work are not unprecedented and the fact that his work lends itself to such extremes is what keeps his catalogue so relevant and vital.
View the score to A Dip in the Ocean – A Dip in the Ocean.pdf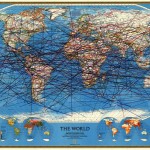 View the score to 49 Waltzes for the Fifty States – 49 Waltzes for the Fifty State.pdf